Use the links BELOW to navigate where to go!


[ FTO MYO WEEK ] If you are NEW to Stygians with NO STYGIANS, learn about how to get a FREE MYO with FREE FTO MYO WEEK INFO


[ EVENT SPECIAL STAFF QUESTS ] There are SPECIAL STAFF EVENT PROMPTS for the duration of the event week only! They give out SPECIAL THEMED prizes, and each staff member has picked a prompt of their choice to bring to you! You can either complete the art OR writing part of their prompt, and do as many as you like (MAX 1 EACH PER USER, ie one Staff-001, one Staff-002, or pick and choose! As these are EVENT quests, they do not get x2 skp!


[ STAFF WEEK SALES ] There will be DAILY featured Stygian sales by a variety in incredible guest artists during W?nd?rl?nd! Be sure to check out the sales released daily here (or consult the sale schedule above)


[ x2 SKP WEEK RULES ] All REGULAR NON EVENT QUESTS get x2 SKILL POINTS!

Simply use the QUEST CALCULATOR and hit x2 to DOUBLE the skill points (Shadow tokens remain the same)
Then, submit the quests the same way you usually do! The staff will do the rest!
The SKP quest cap PER quest is still x100 SKILL POINTS
MAX SKILL POINTS YOU CAN GET FROM THIS WEEK IS x500 CUMULATIVE from ALL NON EVENT QUESTS
That's it! Have fun! Regular questing rules apply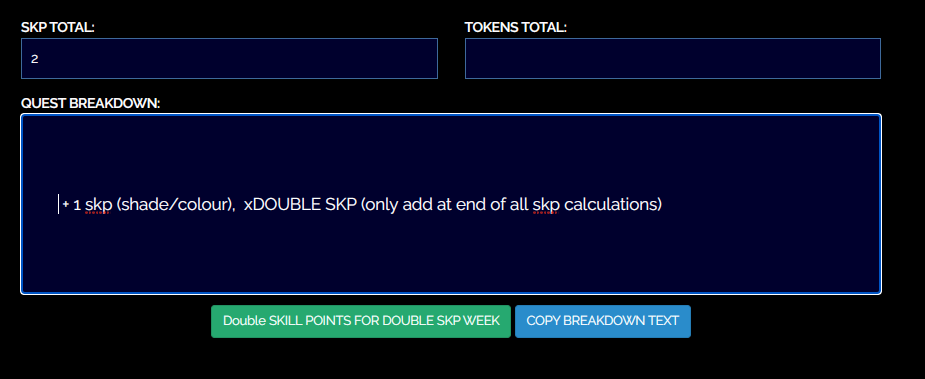 STAFF APPRECIATION WEEK EVENTS LISTED BELOW ENDS FEB 10th @ 11:59 PM PST!
This includes the cutoff date for ALL SUBMISSIONS!