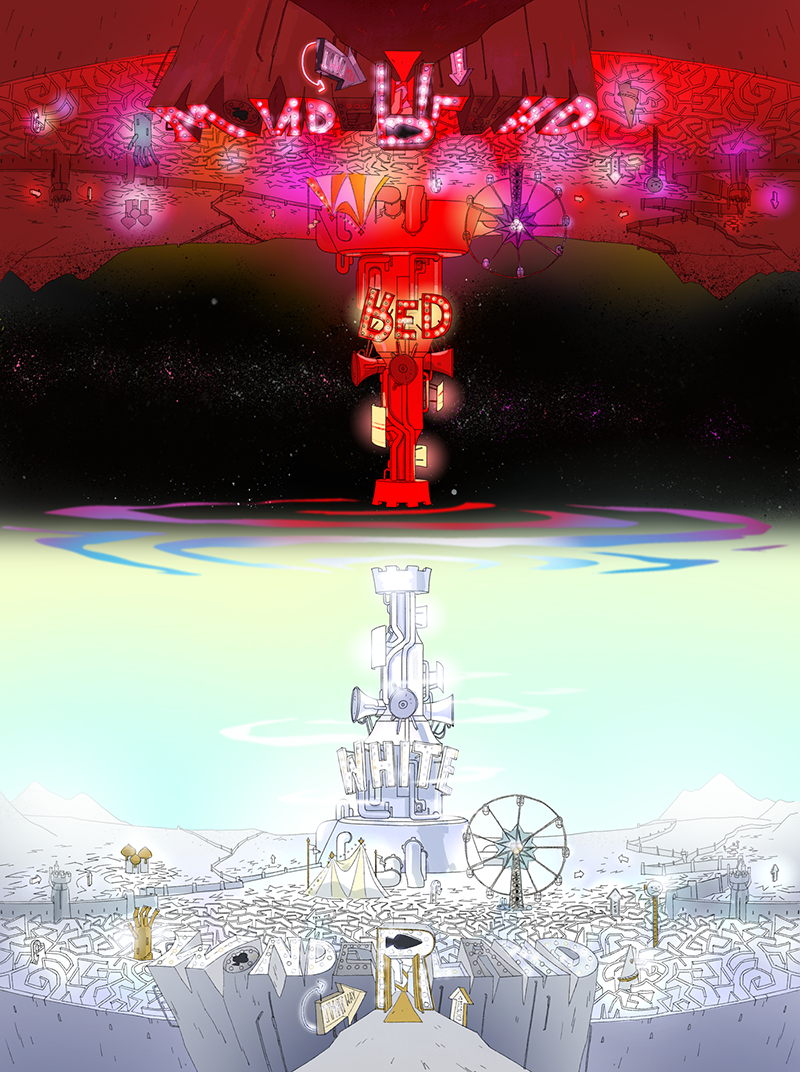 In the ??? Floor of the labyrinth is a strange occurrence: a perfect blend of nightmare and ??? filled with equal parts chaos and drab. The nightmare itself evokes a feeling of an abandoned theme park, if a theme park was constructed of massive castle and nonsensical pathways leading absolutely to nowhere. Vicious foliage and tiles blend into walls and forests, cloaked in grey. Denizens stare at you from the murky depths -however as you approach something shifts from the darkness.
Everything lights up.
Music starts to play from seemingly nowhere, slow to pick up at first. The tiles one by one begin to emanate colour, the foliage bloom to life, the castle itself unravel into a monstrous white and red creation. Banners unfurl, the denizens slowly peer out from the grey, shedding their fog-like appearance. Finally, at the gates where you start, a sign lights up, half-working, illuminated by a thousand lightbulbs.
Welcome to W?nd?rl?nd!
W?d?rl?nd is equal parts theme park and attraction. It was created by the ??? ??? and is technically located inside the Labyrinth, but when you're having so much fun, who cares what kind of unusual labyrinthian entities will consume you! W?nd?r?l?nd has both the creativity and imagination of the nightmare world, and the chaotic nothingness of the labyrinth beneath it. The divide has created an unusual rift in W?nd?r?lnd - while exploring its nightmare world components, the components that look visually appealing, colourful, and fun - one may accidentally also get sucked into the chaotic true nature of the place by mistake. Instead of bright colourful trees, fun rose hedge mazes, and exciting tea parties, one instead may find themselves peering right into the edge of the abyss, as something follows them, continuously chasing them-
- Once again,this is normal. Completely nothing to worry about.
IF YOUR STYGIAN HAS THE "WONDERLAND" TAG
: Stygian created from W?nd?rl?nd are basically nightmares that were lured into this floor of the labyrinth. They retain all structure and semblance as a Stygian, their nightmare kingdoms themselves are completely normal and in the nightmare tree/world, but their prolonged exposure to W?nd?rl?nd has created a sort of... W?nd?rl?nd syndrome. They both fear it and crave to return to it, now freed.
IF YOUR STYGIAN IS A W?ND?RL?ND LEGENDARY:
All W?nd?rl?nd legendaries are Elder Stygian, Stygian half assimilated by the primordial nature of the Labyrinth. Once the ??? floor of the Labyrinth, this floor developed a sort of awareness, a consciousness. It began to split itself, contradict itself, and desire more. From its core, its shell existence, W?nd?rl?nd itself was created, and the Elders that reside within it, the guardians of W?nd?rl?nd. It is to be noted that they themselves did not create W?nd?rl?nd - this labyrinth floor has always existed, the floor itself both an entity and entities. W?nd?rlnd Legendaries do not own or belong to any specific part of this labyrinth, but instead, exist to nuture it all, and build upon it - though they may favour certain areas more than others. Equal parts Nightmare and Labyrinthian abyss, they freely travel between the two parallel sides of W?nd?rl?nd, belonging to both, as is their nature. For every moment they crave colour and happiness and light is another moment they seize to drag others deeper into their own madness.