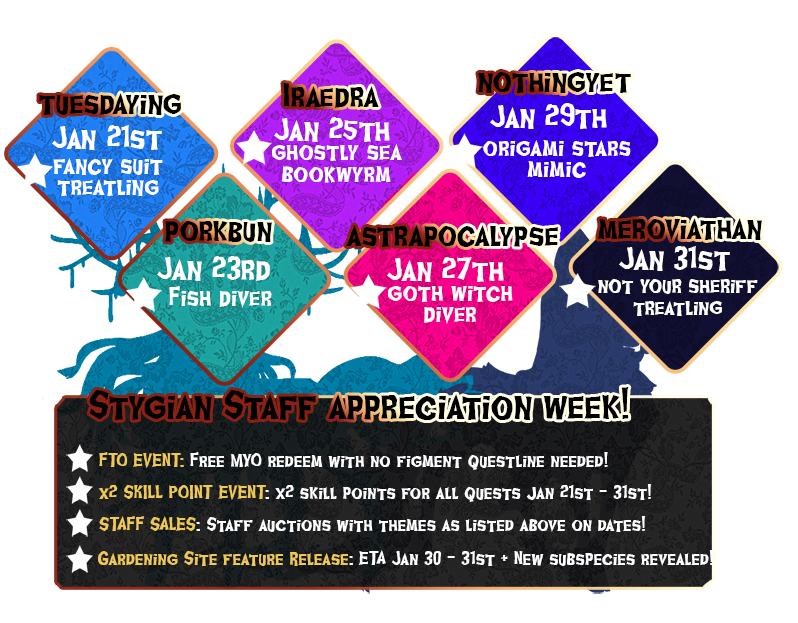 It's STAFF APPRECIATION WEEK! STAFF APPRECIATION WEEK IS LIVE! You can check out ALL LINKS AND EVENTS GOING ON IN THE EVENT PAGE HERE!
FREE FTO MYO Just for this week, ALL FTO have a free fto redeem week! Check it out here! There's also an advertising mini giveaway for ALL, FTO and non FTO for an uncommon trait potion to help spread the love!
https://www.deviantart.com/zoomutt/journal/STYGIAN-FREE-MYO-WEEK-FOR-FIRST-TIME-OWNERS-867876319 SPECIAL STAFF EVENT PROMPTS The moderators have brought to you SPECIAL EVENT PROMPTS! These event prompts are only active for the duration of the event, but are completely optional otherwise! While they do not give the x2 skp bonus, they do give EXCEPTIONAL PRIZES for each prompt! Feel free to pick and choose which ones you want to complete, max 1 prompt PER user (ie one of STAFFF-001, one of STAFF-002), AGAIN THESE ARE OPTIONAL, just themed around the event + bonus event themed prizes! https://stygians.thesporkedken.com/lore/quests?category=Event&name=&code=&search=yes
STAFF SALES Staff sales will be happening on the scheduled days as shown on the event page here! https://www.deviantart.com/zoomutt/gallery
x2 SKP FOR ALL REGULAR QUESTS And of course, all regular quests have x2 skp! Just hit the x2 SKP BUTTON on the regular quest calculator! A NOTE: SKP still maxes at 100 skp, and the MAX AMOUNT Of skp you can earn this week from this bonus is x500, which is a ridiculous amount! That is all - HAPPY STAFF EVENT WEEK!
Stay tuned for some mini events to add to this week and the RELEASE OF GARDENING v2 ON THE 31ST!
Created at 2021-01-21 22:13:42