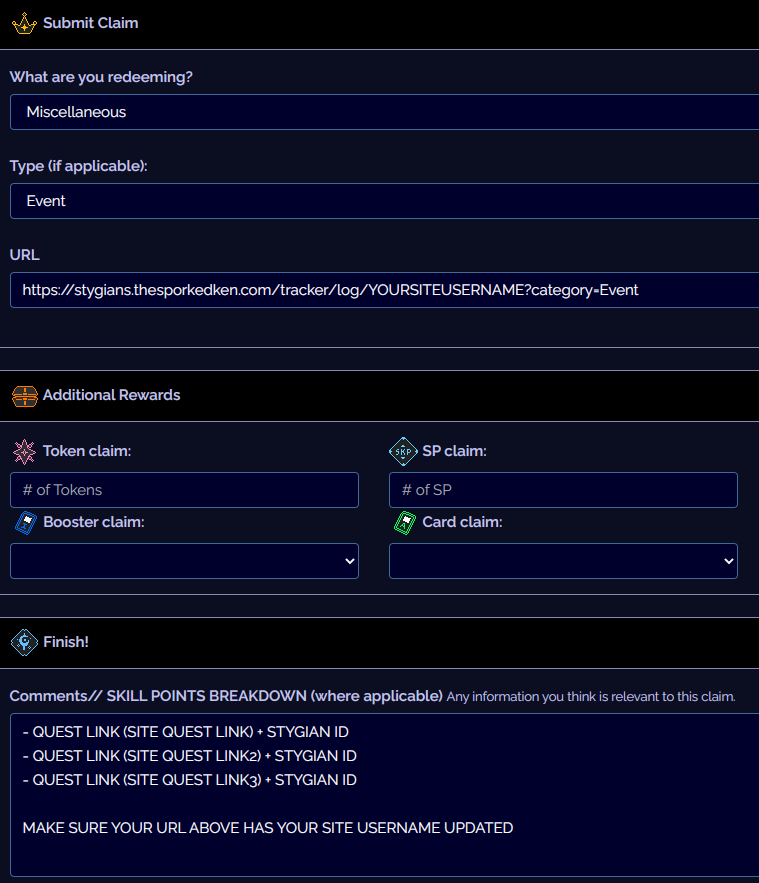 The Labyrinth Returns event is over, and prize claims are ready for all users! If you participated and completed the event, please FOLLOW THE STEPS BELOW TO SEE HOW TO CLAIM YOUR PRIZES:

Step 1: Click the REDEEM PRIZE LINK, this should bring you to the same image as seen above:

Step 2: Fill in accordingly with these results:

For "WHAT ARE YOU REDEEMING", it should be left as "Miscellaneous".

For "TYPE", it should be left as "Event".

For "URL", change where it says "YOURSITEUSERNAMEHERE" to your site username in the url link.
https://stygians.thesporkedken.com/tracker/log/YOURSITEUSERNAME?category=Event
https://stygians.thesporkedken.com/tracker/log/ZOOMUTT?category=Event (that's my username, so you'd enter yours)

For "ADDITIONAL REWARDS", either leave blank, or leave the shadowweaving token selected. We will be granting these prizes regardless of if blank or not.

For "FINISH!", in the comments, SUBMIT ALL THREE OF YOUR QUEST LOGS + YOUR STYGIAN ID AS SEEN IN THE IMAGE BELOW. MAKE SURE TO INCLUDE YOUR STYGIAN ID AS WE ARE BINDING THE LABYRINTH TOKEN TO THAT STYGIAN. Thank you!

Step 3: That's it! Hit submit and you are set! You do need to have ALL THREE quests done to qualify for the rewards!

A reminder also that the Labyrinth Shadowweaving Trait that the Stygian is bound to will be the one that has the special Labyrinth Returns cert! Make sure when adding to your Stygian - if your Stygian has multiple alt forms to SELECT THE CORRECT ALT FORM you want to use it on for the cert.
Thank you all for participating in the event and enjoy your prizes! We have also rolled all winners of the raffle, which you can [ check out here ]! Please message tuesdaying @ DA if you are in the top 5 prize pool!
Created at 2021-04-14 18:43:32