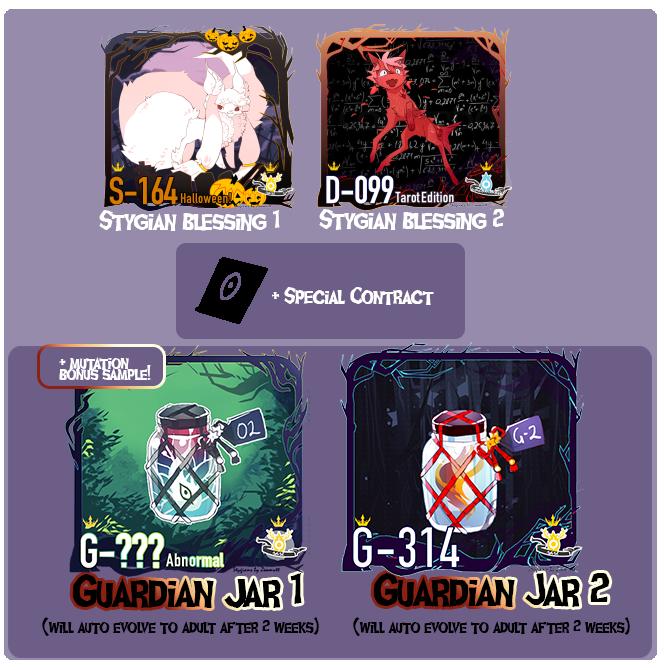 THE GUARDIAN'S MIDNIGHT BLESSING EVENT IS LIVE!

Welcome to the Guardian's Midnight Blessing info guide! This is an event that is quite different from the usual event as it focuses on special guardian Stygian made by artists! What is a Guardian Stygian? A Guardian Stygian begins as a dormant nightmare sealed in a jar - thus a Guardian Jar However, when 1, or 2 Stygian bless this jar, it awakens into a fully grown Stygian! It also obtains special characterstics from the Stygian that gave it its blessing in the form of: subspecies it can become, traits, colourations, abnormal mutations and more!

This is a MONTH LONG EVENT FEATURING MULTIPLE ARTISTS

EVENT AND HOW TO ENTER:
ALL ENTRIES for slots/entering your pairs are held ON SITE. ENTER + CHECK OUT RULES + HOW TO HERE: stygians.thesporkedken.com/eve…

This replaces our monthly Halloween Advent, and gives everyone who enters a chance to enter their existing Stygian to create a
NEW designed Guardian's Blessing Event Stygian
! The Stygian is themed off the two existing Stygian you entered WITH a high chance of generating a bonus event only traits (abnormal traits)

All artist prices are in USD! Please consult below to see price ranges
(again this is for a NEW fully designed Guardian Stygian you will get to own with the potential of abnormal + bonus traits). These prices are the average price for a Stygian flatsale/advent.

Each week will have different artists eligible - where
each artist will take ONE slot
. In broader terms, these slots that you can enter "parents" to get "children" results. Please note: in Stygian canon, Stygian are unable to actually make Nightmares from themselves therefore there is no actual genetic relationship. They simply give their blessings to existing dormant Nightmares to wake it up from being sealed in a jar. You will able to see samples of each artist per week, and enter their raffle. The artists prices will be listed on that site page as well

To enter, simply select an artist you wish to enter for, and hit ENTER!
Created at 2021-10-01 17:54:42