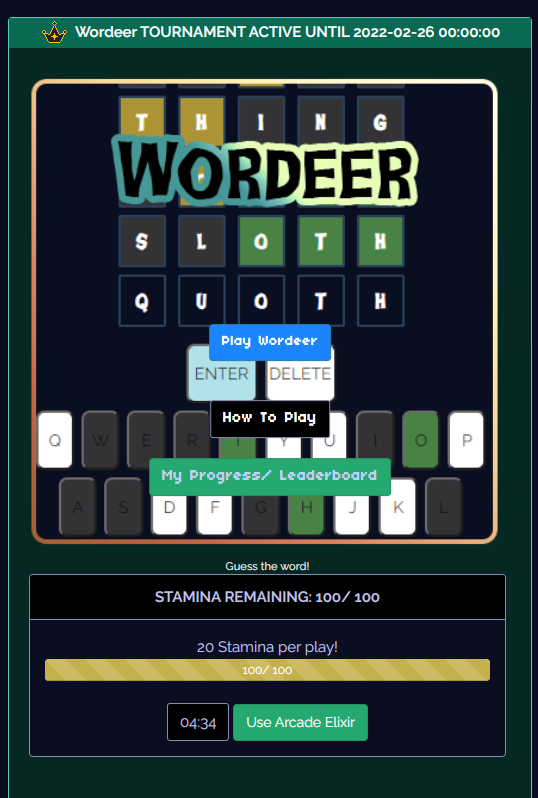 A NEW MINIGAME IS NOW LIVE IN THE MINGAME ARCADE
Presenting... wordeer, a word puzzle minigame completely not based off anything else
I don't know what you're talking about
!
❔ HOW TO PLAY
(or click on how to play on the game)
⭐ Guess the 5 letter word by inputting your guesses
⭐ [ GREEN TILE ] means its the right letter, but in the wrong spot!
⭐ [ YELLOW TILE ] means its the right letter in the right spot!
⭐ Keep on guessing until you get the word! Good luck!
⭐ Of course, the Stygian dictionary is not THAT extensive, so there are some 5 letter words that are valid, but do not exist in the Styg-icon. If it doesn't, it will give you a popup letting you know, you can just delete your answer and try again penalty free!
⭐ Please note THE RULES ARE DIFFERENT than the .. the other popular game. PLEASE READ THE GAME RULES. This primarily concerns if you see a [ GREEN TILE ] AND a [ YELLOW TILE ] of the SAME letter, it means only one of them is accurate (the green one).
SPECIAL LIMITED TIME TOURNEY UNTIL MARCH 6 @ 11:59 PM PST
A limited 7 day ONLY ONLY tourney is live for
daydreams, silver, tokens, and gold
! All you have to do is CUMULATIVELY reach that score until the end!
Created at 2022-02-27 16:22:49