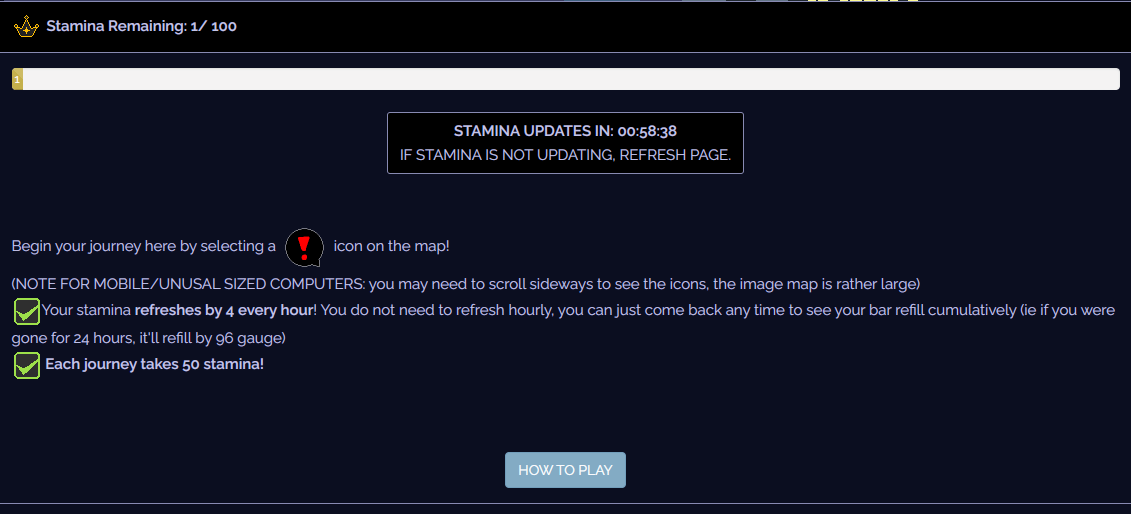 EVENT JOURNEY COOLDOWN CHANGES
I've updated how the journey cooldowns change, and added a STAMINA BAR instead!
Each journey now takes 50 stamina! That means with 100 stamina (the max amount), you can decide if you want to do 2 of zone 2's or like one of each zone (and then allocate accordingly once zone 3 comes out)
Stamina refreshes approximately 4 stamina every hour from the last refresh /when your stamina was restored (it will tell you on the timer)
Restoration is CUMULATIVE meaning you can leave the page alone for 24 hours if you wish and it will restore 96 stamina! (at 4 stamina an hour) Of course, stamina caps out at 100, but you can restore any amount till max
EVENT REWARDS HAVE BEEN CHANGED TO REFLECT STAMINA. You will now gain: 3 event (currency) PER journey, as opposed to 5. If you're pressed for time, you can also immediately "forfeit" a journey - while this does take 50 stamina, it also immediately gives you the 3 event currency per trip! (The downside being you will not have a complete journey log if you want to use it in the future/ will not be able to find the secret achievements/items/ journals) .
ALL STAMINA HAS BEEN REFRESHED That means you all start off with 100 stamina and can do 2 fresh journeys!
Created at 2022-06-16 00:56:40