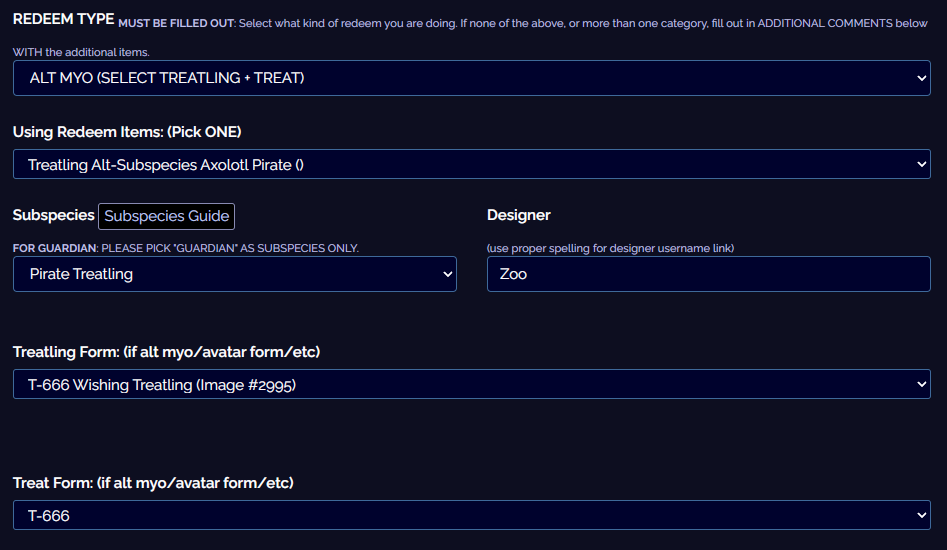 TREATLING ALT-SUBSPECIES ARE LIVE
Treatlings can now also have alternate forms instead of just one subspecies form! That means their Treat form gets an additional form too!




What is an alt-subspecies?
An alt form means an alternate form/design of an existing character. Think of it as an alternate glamour or shape that character can take!
For example, your Treatling may have started off as a Witch Treatling, but using an Astrologer Alt-Subspecies Ticket, can also have an Astrologer form. That means they can freely shift between the two subspecies, both forms are canon!
All alternate forms will also show up on that character's masterslist art for you to pick, and in their Treat form's art for the Treat form!

I own a Treatling Alt-Subspecies ticket! (How to use)
To submit:
1) Make sure you have the correct "Treatling Alt-Subspecies Ticket" AND create the Treatling AND Treat form design for the new subspecies
2) Submit the images using the redeem form below! (if it has dream and nightmare just submit additional images in additional comments). Treats do NOT get D&N forms.
3) Select [ ALT -MYO ] for redeem type
4) Select the subspecies (whatever the ticket youre using)AND the correct redeem item (ie subspecies is "Pirate") and item is "Alt-Subspecies Axolotl Pirate" to submit a Pirate Treatling + Axolotl Treat for alt form
5) Select the correct existing Treatling AND Treat character forms in the dropdown
6) You're done! Once everything is approved, your Treatling AND Treat form should show up (Treat form goes in their Treat image)

Additional notes
You can select different "active" Treatling and Treat forms on site as this doesn't really affect anything. Lore wise however, if they are a Wishing Treatling, their Treat form is corresponding (so canonically both shift at the same time).
ALL TREATLING REBASE ITEMS HAVE BEEN TURNED INTO TREATLING ALT-SUBSPECIES ITEMS
You can still use alt-subspecies as rebase if you wish! To do so, select "rebase" in the dropdown instead of "alt-sub"
Effective now, you can submit your Treatling alt-subspecies items
Any Treatling rebase items APPROVED cannot be edited to Treatling alt-subspecies
Created at 2022-09-05 00:20:07