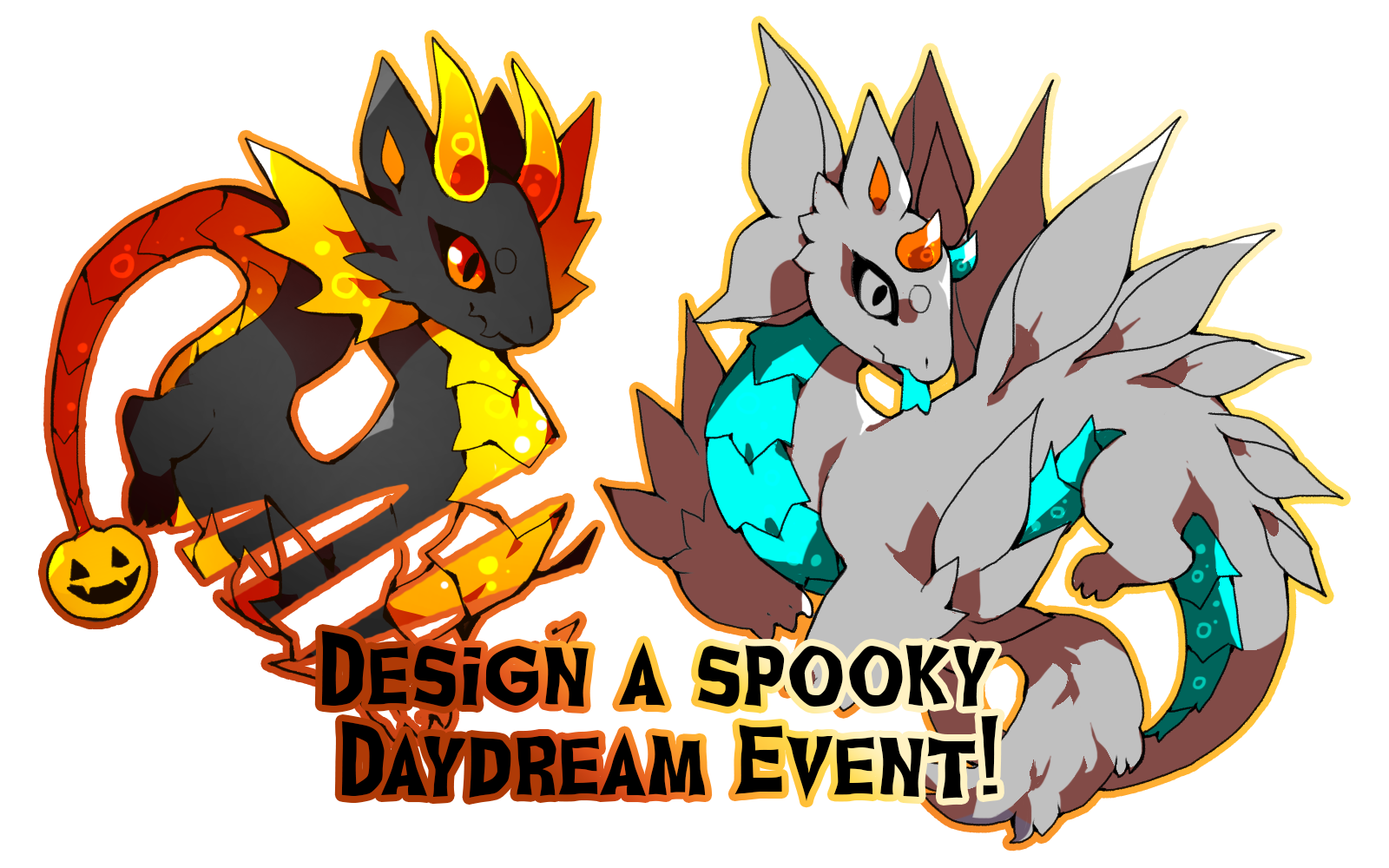 DESIGN A SPOOKY DAYDREAM EVENT
Do you have daydream ideas? Because we'd love to see them, and even with your permission, have these concepts donated for site use for ALL users to enjoy! This design event is [ spooky daydreams ] as these daydreams will be used in the upcoming new gardening zone update.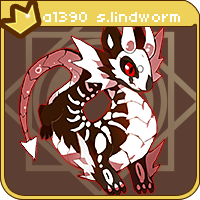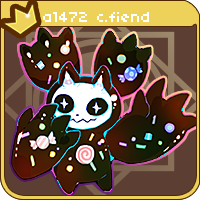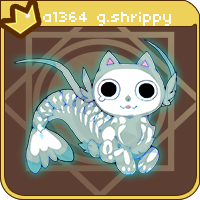 Here are some samples of
spooooopy daydream ideas

DESIGN EVENT RULES:
- Daydream MUST HAVE A SPOOKY INSPIRATION/THEME. This is because it will be released in the upcoming gardening expansion (haunted gardening). Examples could include: ghost themes, demons, pumpkins, were-creatures, mimics, gargoyles, literally anything to do with Halloween, even unusual creatures are fine. You dont need to base it off an existing creature (ie a dragon for example) and can make up one that has a slightly spoopy flair to it (ie a ghost wisp for example on its head).


Daydream must be A FINISHED PRODUCT (coloured, shaded, PREFERRABLY lined) WITH A TRANSPARENT BG (SAVE IT IN .PNG OR .GIF FORMAT ) SAMPLES OF DAYDREAMS


Daydream size must be MINIMUM 400 x 400 pixels. This is because we also use daydreams in adventuring and thats the minimum size for adventuring


ONE ENTRY PER USER PLEASE! You can "compile" as .pngs a bunch of ideas into one image to submit if you wish, but only one design will be chosen! Please only SUBMIT your entry once as there are prizes attached to your submission!


Daydream designs cannot be based off existing daydreams (ie: no "mecha floresce" or anything, but you could design a mecha fish idea)
Daydream designs cannot be based off existing IPS (ie after a Nintendo property for example)


Daydream designs cannot be collaborated or commissioned, they must be designed by you! If youre iffy on your art there is no worries at all, everyone starts somewhere!


By submitting you are okay that we use this daydream design for the site and for users to replicate this design in events such as "Daydream Rampage" etc etc (tldr you're okay donating this design to Stygians.)


Your Daydream design is for site use only: they will never be profited off for as adoptable/individual design to be sold.


You will in addition, if your design is chosen, get to colour a UNIQUE COLOURATION of that daydream design for you to keep 25 copies off (to keep, give to friends, etc).

HOW TO ENTER:
STEP 1: Design your spooky daydream following the RULES above. (Fully rendered, at least 400x400px, transparent bg, spooky inspirations theme, must not be based off an existing daydream).


STEP 2: Click on the [ SUBMIT ENTRY ] button below.
FOR QUEST: CHANGE THE DROPDOWN QUEST TO [ DESIGN-001 ]
FOR IMAGE: Upload the image in the image uploader
FOR DESCRIPTION: Submit in the description the name of daydream + a blurb about it if you wish
Do not fill out any other info other than these three listed above, do not fill out collaborator or add stygian skp.
DO NOT USE THE EVENT CALCULATOR/ you do not need it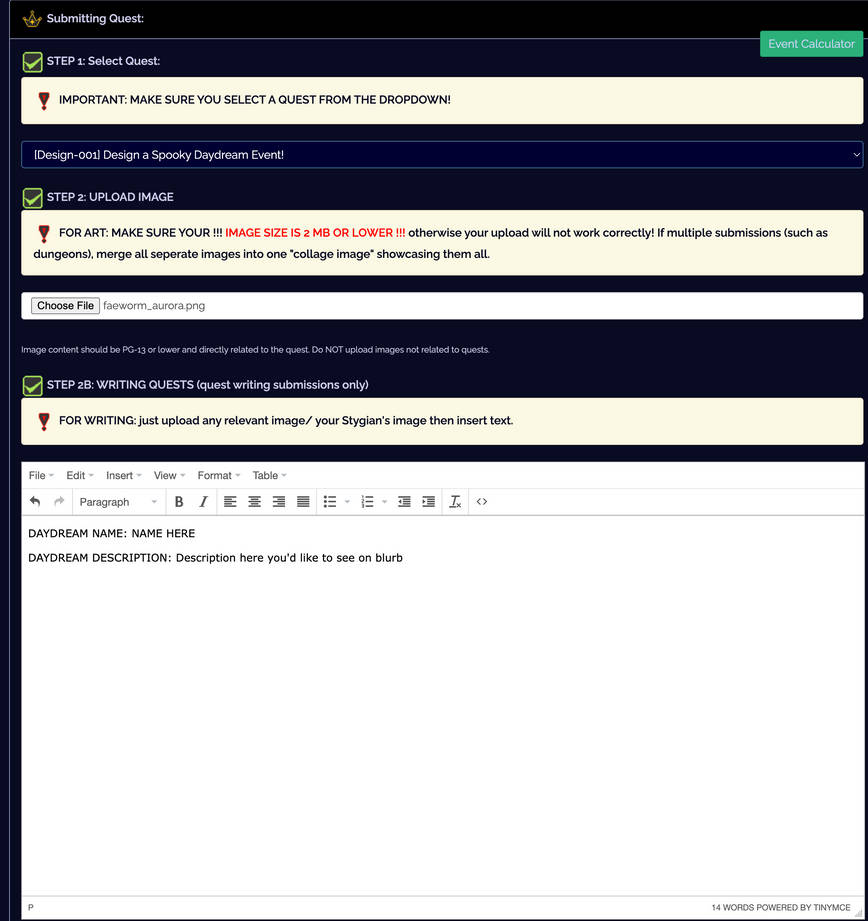 DO NOT FILL OUT COLLABORATOR OR STYGIAN SKP INFO, only upload the image and in the description, the name of the Daydream/ a little blurb about it.
That's it! If you are chosen, you will be notified via discord and site messages! SCROLL DOWN BELOW (PAST PRIZES) FOR THE [ SUBMISSION ENTRY FORM ] .

DESIGN EVENT PRIZES:




ALL ENTRIES:

RAFFLE PRIZES (x10):



x1 Guardian MYO Ticket OR Rare MYO ticket (your pick)
x1 Rare Alt sub-species+ Ticket OR Treatling Rare Alt-Subspecies+ Ticket (your pick)
x4 Alt-Subspecies Wyvern (new gardening update subspecies)
x4 CYO ??? Treat (new gardening Treat update subspecies)

STAFF PICK PRIZES:



Grand Prize Winner: x1 Stygian Legendary Upgrade ticket (upgrades a Stygian to legendary status)
Top 3 picks: Choice of Common Diver MYO, Guardian MYO, Treatling Contract, or Rare MYO Token
Runner up 5 picks: Choice of Alt-Subspecies Wyvern OR the new ??? CYO Treat
ALL STAFF PICKS: (x???) You will get x2 copies of your daydream AND if you wish, make a UNIQUE colouration of your daydream that ONLY you will be given x25 copies of (this is an exclusive colouration that will never be released elsewhere other than your 25 copies)
SUBMIT YOUR ENTRIES HERE:
Created at 2023-04-04 21:24:58