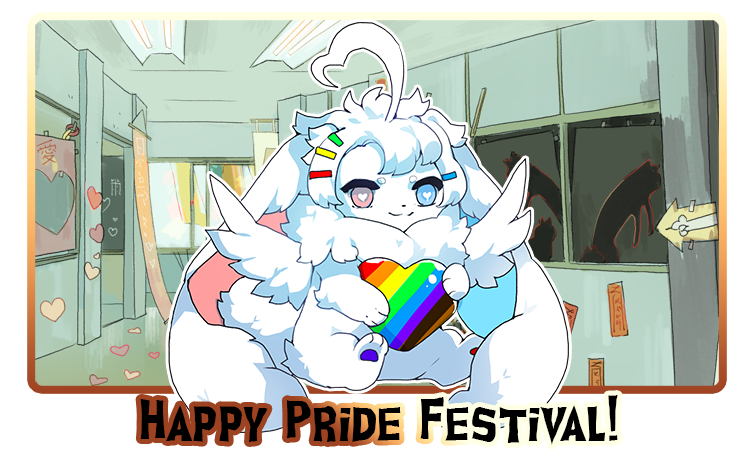 HAPPY PRIDE FESTIVAL WEEK (ENDS JUNE 30th @ 11:59 PM PST)!

Happy Pride Festival, a celebration of who you are in the nightmare, dream, and waking world! To celebrate are a variety of events for everyone to participate in to obtain badges (new!), Pride Week raffle tickets, Daydreams, and more special limited time prizes! But first, grab yourself some Rainbow Tokens!



RAINBOW TOKEN DAILIES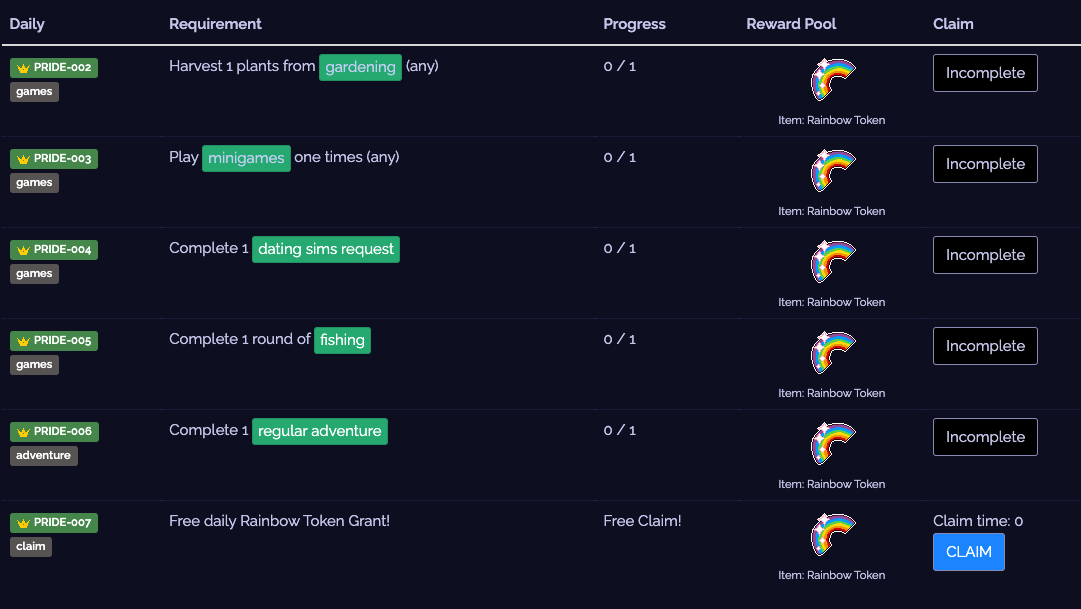 You can obtain
[ ONE FREE RAINBOW TOKEN EVERY 24 HOURS ]
! There are also more rainbow tokens you can obtain by completing the dailies listed on the dailies page (these replace the usual standard dailies for this duration).

RAINBOW TOKEN Dailies!
THE RAINBOW TOKEN SHOP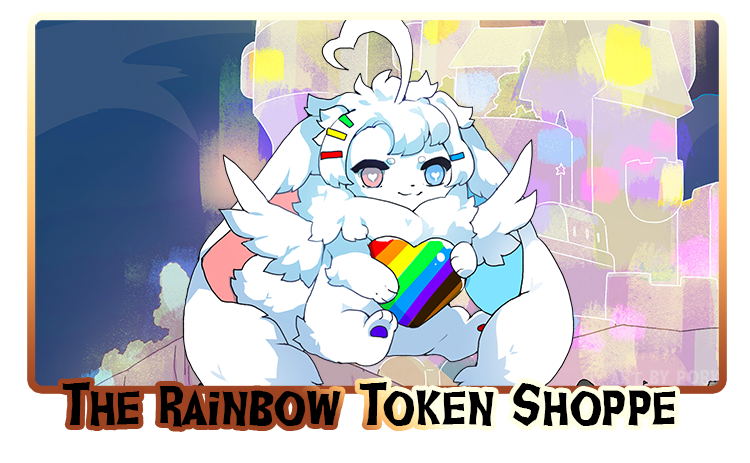 Spend your bunny tokens in the limited time shop below! This includes
special raffle tickets for items such as a Guardian token
items, many, many event only Pride-themed daydreams and the new
[ BADGE SYSTEM ] (see below for info)
!

A note: the shops has been revamped so that it [ sorts by sale category ]. If you wish for example to look a shop's [ daydreams ], click the [ daydream ] button in the [ shop search ]

The Rainbow Token Shop
PRIDE WEEK CAPTURABLE DAYDREAM ADVENTURES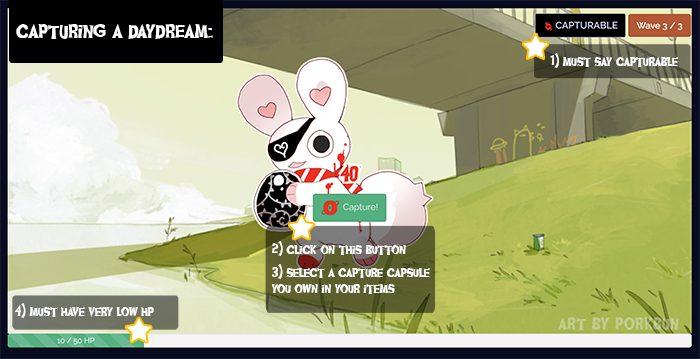 The [ Island of Lost "Holidays" ] zone has shown up again, and brings it this time, exclusive daydreams! For the limited, only special Pride Week daydreams will show up, exclusive to this zone! To capture a daydream, you must whittle them to low health. They also must say CAPTURABLE to capture them. Use a capture capsule and try your luck to take that Daydream (egg stage OR type) home!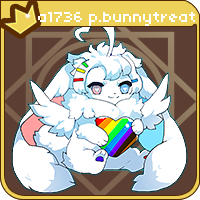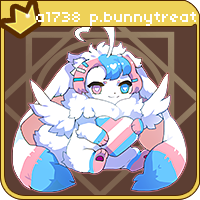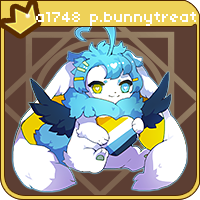 GO TO CAPTURABLE ZONE
New to Adventures tutorial

Need Adventuring Supplies?
Check out the Bunny shop, you can buy both with bunny tokens!
BADGES AND SHOWCASES ARE LIVE (NEW!)
You can now add BADGES TO YOUR STYGIAN! They show up in something on your Stygian's profile (their main page when you click on a Stygian) called a SHOWCASE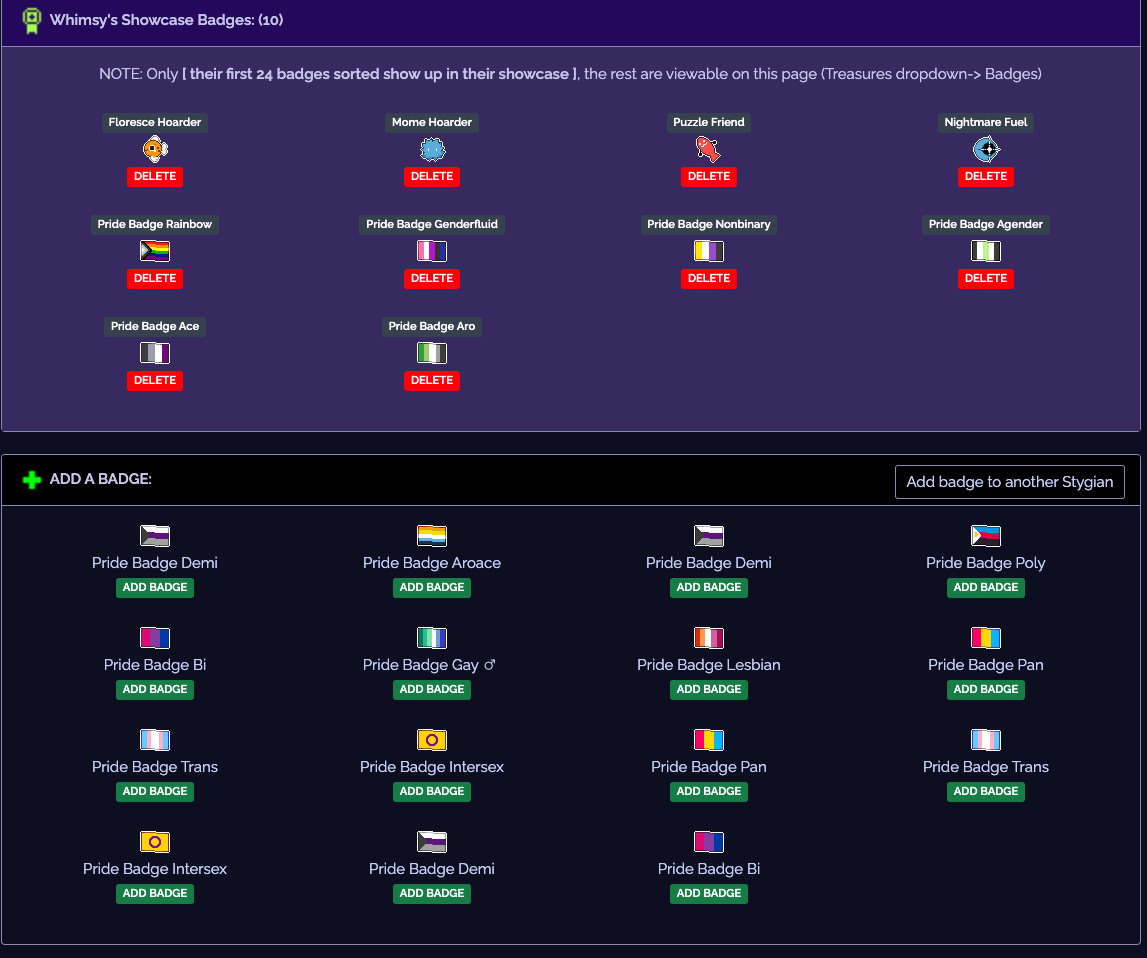 ❓
[ What are badges ]
: Badges are a new system - like mini achievements for Stygian! Any badges you (user) obtain, you can assign to your existing Stygian. Unlike achievements
you can own multiple of a single badge, to assign them to different Stygian
. Badges will show up under the "badge" tab in their showcase to show off all their shiny accomplishments!
You can also delete badges off a Stygian if that badge is no longer needed
Badges are bound when you use them on that Stygian
You can view what they look like on this Stygian here!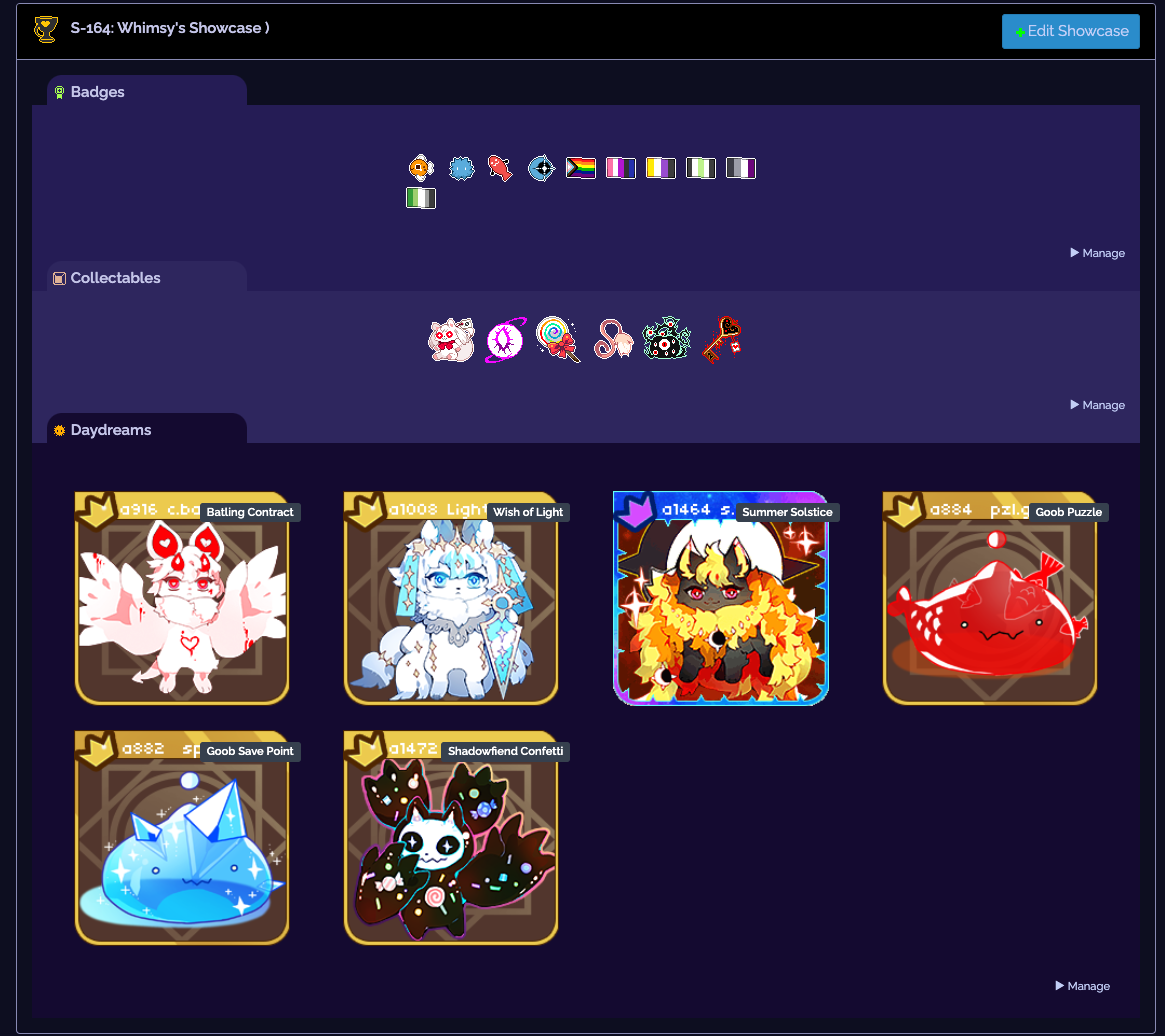 ❓
[ What is a showcase ]
: It's literally a showcase to feature your Stygian's favourite items and daydreams, like "favouriting" their existing ones they own! You can also display badges they've obtained there!
Select a Stygian below (hit assign badges even if you don't have a badge) -> select [ ADD PETS TO SHOWCASE ] and [ ADD COLLECTABLES TO SHOWCASE ]
You can also organize your showcase by specific order!
Hit [ back to Stygian ] or click on your Stygian's profile if you want to view what it looks like! Hooray!

View my Badges
Manage Showcases (Stygian -> Edit Showcase)
PRIDE WEEK SPECIAL QUEST
If your Stygian/Treatling/Diver muse wishes to celebrate pride week as well, a special prompt for them!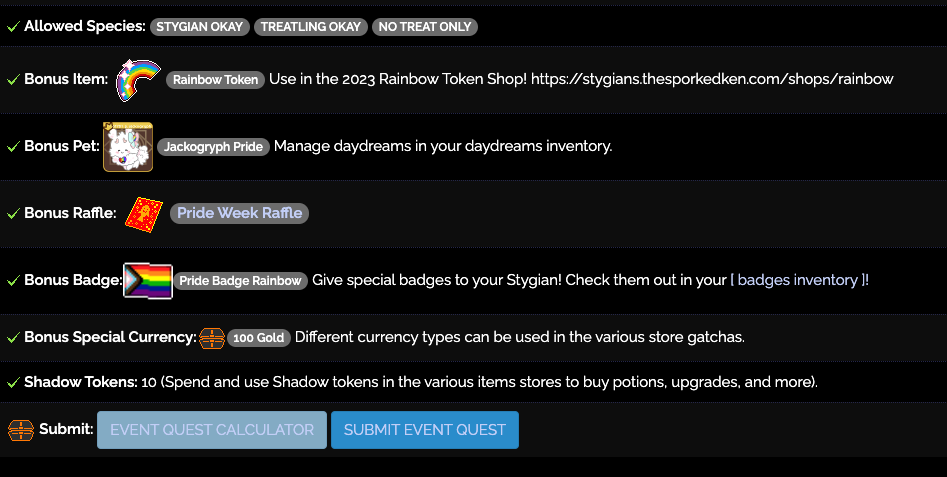 ⭐
EVENT QUEST: THERE IS A LIMITED TIME QUEST AVAILABLE FOR 1 WEEK UNTIL JUNE 30th @ 11:59 PM PST
This is a one time quest per user!
You will also get bonus shadow tokens, daydream, gold, rainbow token, badge, and a raffle ticket!

PRIDE WEEK QUEST INFO HERE
PRIDE WEEK FREE GIFT!

Don't forget to claim your Bunny Week gift here as well!

Free Gift!

06.18.2023 Changelog:
All [ special ] shops are now broken into categories. Click the [ select a shop category to browse ] to purchase items within a specific categories
Stygian/ Treat UI changes, your Stygian will now prompt select an element if it doesn't have an element
Added showcases to your Stygian profile
Added Badges to Inventory dropdown
Shops with Gachas now have the UI changed a bit (with the droppable items on the header menu for clarity )
Stygian profile dropdown changes (adding badges, and a way to edit their peofile info in dropdown)
Stygian profile name changes (you can change their name easier)
Daydreams are now sortable (go to daydream tab )
Minor Stygian profile UI changes on various collection pages
Many, many many bug fixes, I lost count...
Created at 2023-06-18 11:31:21