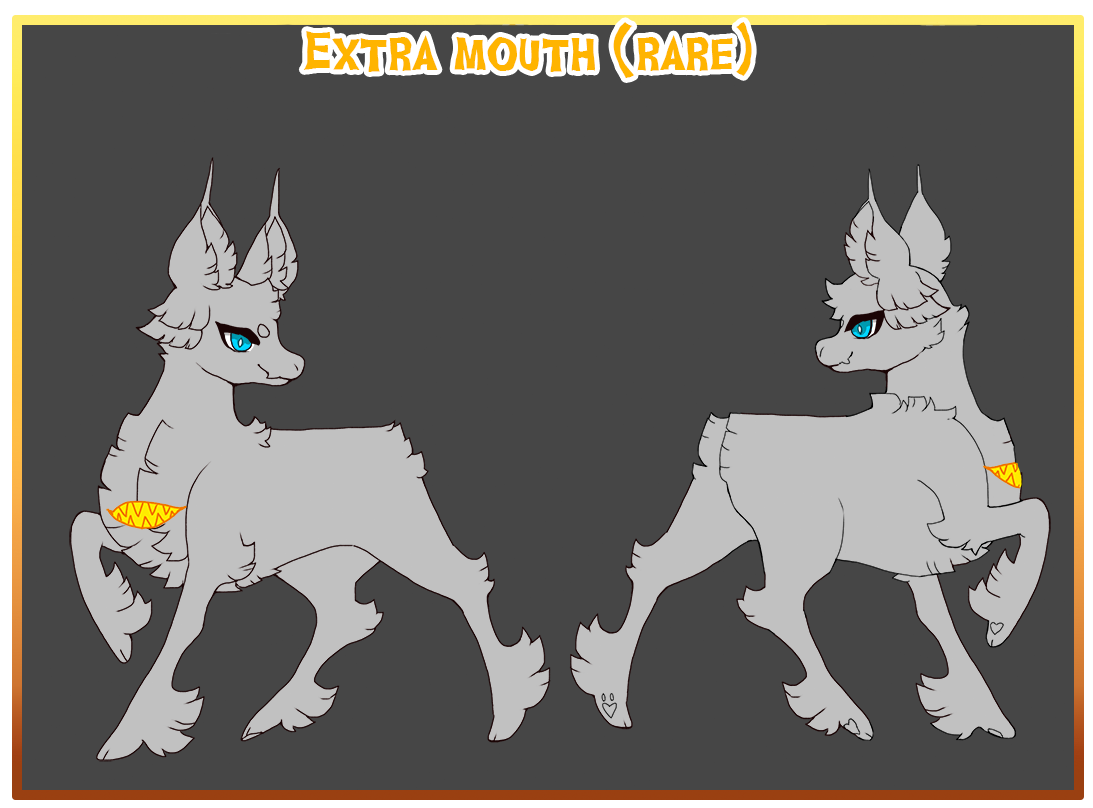 Gives your Stygian an extra mouth/extra mouths along the body AND front legs/front arms.

TRAIT DESIGN GUIDELINES:

MAX SIZING: 25 % body size

This is a restricted trait and cannot be used on ANY Stygian or MYO without owning this specific potion. This includes semi-customs, MYO Tokens, Guardian MYOS, Alt MYOS, rebases, so on so forth. The only exception is if the Guardian Stygian inherits a rare trait from a parent that already owns this trait.
You can have one, or multiple extra mouths (up to five). You can choose one or the other, you cannot have one large mouth and also have multiple smaller mouths.
For a SINGLE mouth, the max size of the mouth is 25% of body length (from chest to butt sizing - so chest to butt would be 100%, or head to foot for bipedal).
For multiple smaller mouths, you can have up to 5 extra mouths. These mouths can be no longer than 10% of body length each, for a combined total of 10% x the number of mouths. (So if you have 3 mouths at 10% each, the total combined length would be 30% of body length.)
When using multiple mouths - no mouth can exceed 10% of body length indivually. You cannot have one mouth at 20% and another mouth at 10%.
Can affect body OR front legs. This can be affected on top of multiple limbs/ modified front paws. This cannot affect back limbs /legs
Can affect neck along the chest as long as it is not touching or part of the head.
Can have pointed teeth only (optional). No gums.
Can have a tongue (optional) that is equal to the size of the mouth in length.
Cannot be affected by elemental (other than having elemental coat over it), but can be influenced in COLOUR/TEXTURE ONLY by elemental insides.
Mouths cannot have lips.
Cannot affect head or tail or any other limbs/ elements/ traits.
Mouths cannot be "eating" or "consuming" anything. There should not be any form of liquid or fluid escaping from the mouth. This is for PG-13 art guidelines reasons.
WE HAVE THE RIGHT TO REJECT YOUR EXTRA MOUTH DESIGN IF IT BREAKS THE PG-13 GUIDELINES. IN this case, we will point out what you need to do to make it more PG-13 friendly.