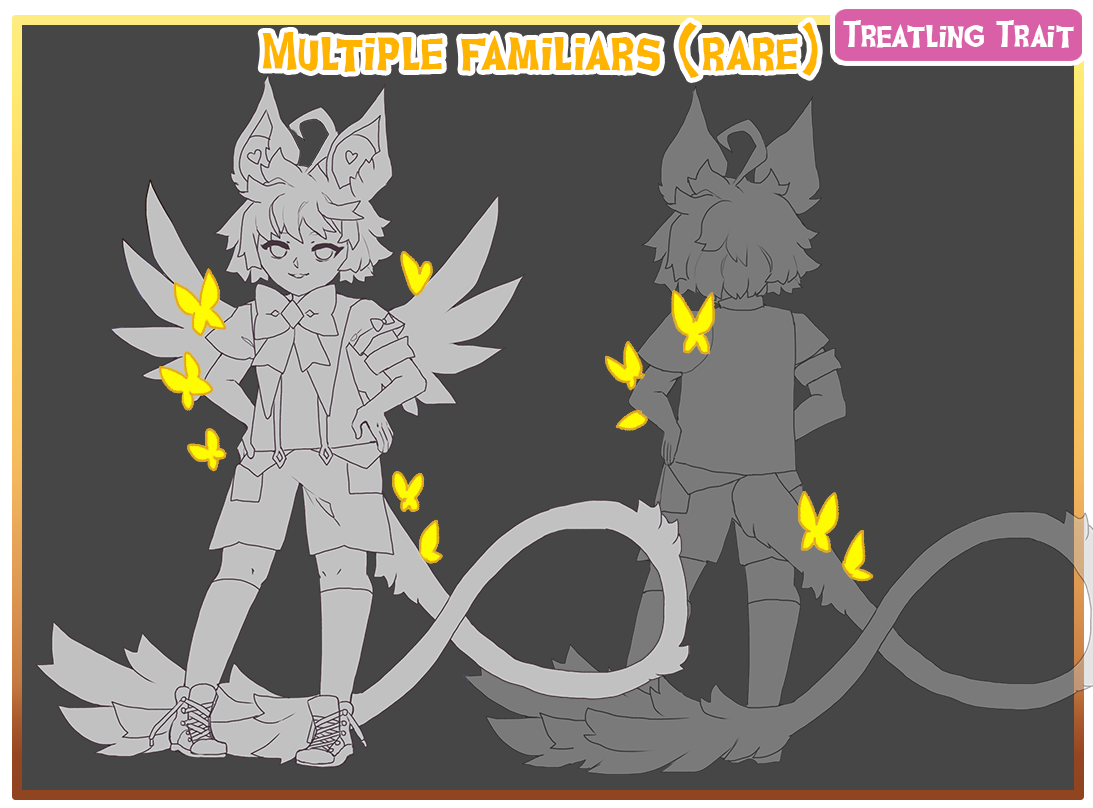 WITCH/WIZARD and WISHING TREATLING ONLY: Gives your Treatling multiple similar OR different familiars. Can only be used on Treatling subspecies that come with familiars (such as witch)

TRAIT DESIGN GUIDELINES:

MAX SIZING: % body size

Traits Cannot be Used With: Treatling Large Animal Companion Treatling Small Animal Buddy

This is a restricted trait and cannot be used on ANY Treatling or MYO without owning this specific potion.

Witch/Wizard and Wishing SUBSPECIES ONLY: Turns/replaces your existing animal familiar with multiple small familiars
Familiars can be based on real or fantasy creatures, and can be the same or different types of creatures.
Each familiar can be of varied sizes, up to 25% of the Treatling's body size.
Minimum 2 and maximum 6 familiars.
In the case of Wishing Subspecies, all familiars will be stars.
Can have a small collar or bow around the neck. These should always be small and unobtrusive collars/neck bows. In creatures with no neck, collars will be handled on a case by case basis. No other accessories or decorations are allowed for animal companions.
Cannot be holding, carrying, or wearing accessories (such as capes, saddles, barding, bandages, knives, bags, etc) other than the small collar stated above.
Each familiar cannot exceed 25% of the Treatling's body size.
Cannot block or obscure a Treatling or its traits in masterlist art.
Cannot look like an existing adoptables species/Treat/Daydream, or a Stygian/ Stygian design.