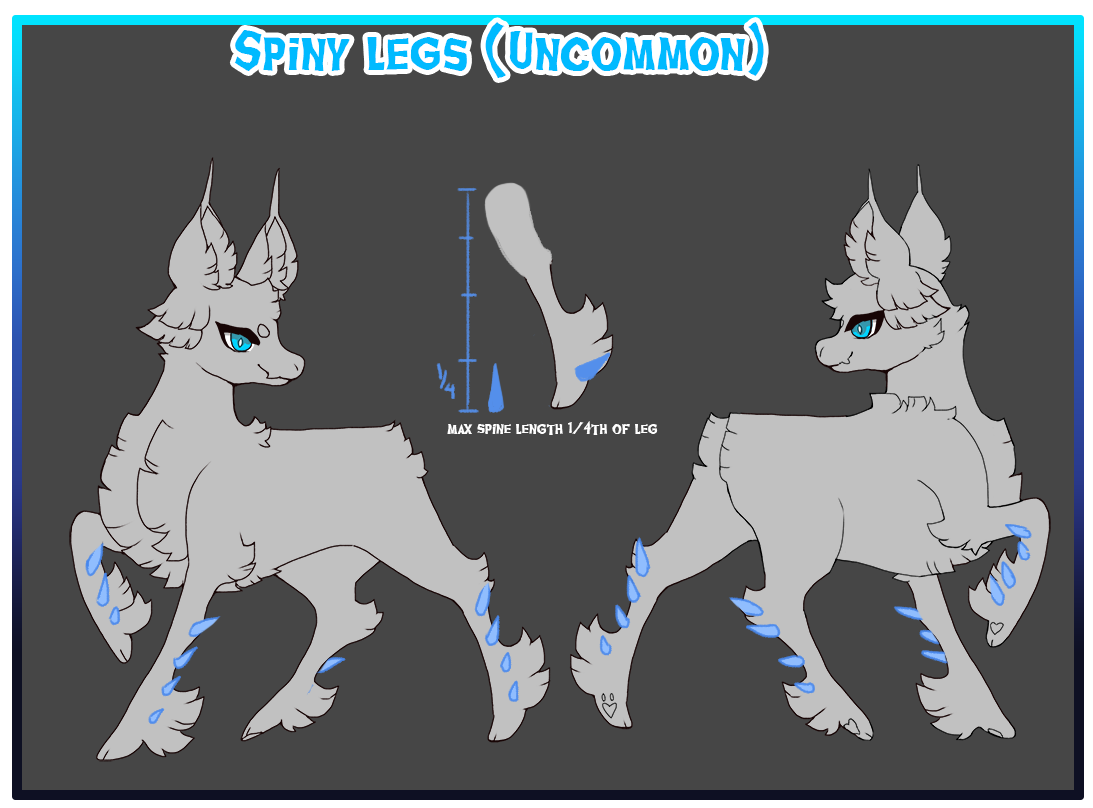 Gives your Stygian small spines on their legs.

TRAIT DESIGN GUIDELINES:

MAX SIZING: % body size

Traits Stackable: Front Paws Multiple Limbs

Traits Cannot be Used With: Shapeshifter

This is a restricted trait and cannot be used on ANY Stygian or MYO without owning this specific potion. This includes semi-customs, MYO Tokens, Guardian MYOS, Alt MYOS, rebases, so on so forth. The only exception is if the Guardian Stygian inherits an uncommon trait from a parent that already owns this trait.
Grants your Stygian a maximum of 4 small spines per leg.
Each spine can be no more than 1/4th (25%) of the leg length. These are small spines!
Can only be applied to the legs. Cannot be applied to the hooves/feet and cannot be applied where an elbow wing would be attached.
Should have an organic texture found on animals. (Similar to most spines or claws found in nature.)
Can be applied to all 4 legs of a quadrupedal Stygian. Bipedal Stygian can only have them applied to their back/hind legs.

- For regular owl and bat Stygian leg spines can be added to their front limbs layering over their feathers/wings. Spines cannot replace or otherwise affect their feathers/wings.

Can be applied to multiple limbs on quadrupedal Stygian.
Can be coated with an elemental aura to achieve an elemental texture (such as a metal coating). Cannot be infused (replaced) by an elemental aura, however.
Cannot be made larger than 1/4th of the leg length. Cannot be Supersized or affected by [ ++ ]. Cannot be applied to limbs affected by Shapeshifter.
Cannot be used to replace leg fluff, fetlocks, or elbow wings.
Cannot be applied to the front legs (arms) of bipedal Stygian (including primordial owl and bat).
Cannot be applied to primordial bookwyrm (no legs) or to mimic Stygian (as no trait can affect their shadow body).